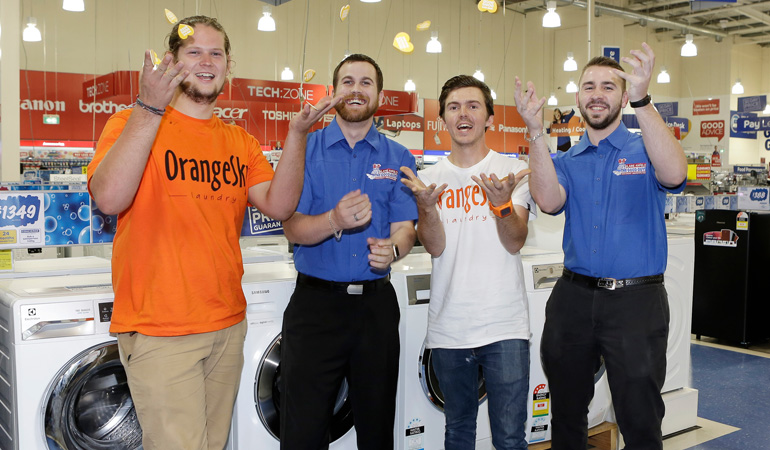 Andrew Muir has announced that The Good Guys has partnered with Orange Sky Laundry, Australia's first mobile laundry for the homeless, to help expand their services across Australia starting with South East Melbourne on Saturday 10 October 2015.
Startling statistics show that 1 in 200 Australians are homeless on any given night and Melbourne's South East corridor has a homeless population of 22,800, of which 50% are under the age of 25.
In an effort to support Australia's homeless, The Good Guys Chairman, Andrew Muir, said The Good Guys has committed significant funding and resources to Orange Sky Laundry.
"As a business that sells one out of every three laundry products in Australia, we approached Orange Sky Laundry to see how we could help them expand the incredible service they have started to help Australia's most vulnerable," Mr Muir said.
Orange Sky Laundry co-founders Nicholas Marchesi and Lucas Patchett started the charity a year ago because they wanted to make a difference.
"Homelessness is a growing issue in Australia and we thought that by providing facilities that allow homeless people to wash and dry their belongings we could help raise health standards, restore respect and reduce the strain on community resources," Lucas said.
"We originally piloted the service last year in Brisbane to see if it would be used, and whether on a technical level it was even possible as this had never been done before. It proved an amazing success and as a result we wanted to expand as quickly as possible, to get more vans on the road," he said.
Nicholas Machesi said that the extremely generous partnership with The Good Guys has allowed Orange Sky Laundry to keep their dreams of expanding nationally by the end of 2015 alive.
"The Good Guys' contribution is incredible. They are a company that are known for their community contribution and their support has not only allowed us to get a fourth van up and running in South East Melbourne, but will help us with our plans for national expansion" Nicholas said.
The South East Melbourne location was selected because it had been identified as one of the worst areas for homelessness in Melbourne.
"Over the past couple of weeks we trialled a van here and were inundated with people using the service, which solidified our desire to get a van operating in this area as quickly as possible," Nicholas said.
"To be launching our fourth van after only one year is a tremendous achievement that we are really proud of and it is fitting that this Saturday is World Homeless Day because our service can now help more than 105,000 disadvantaged Australians," he said.
Orange Sky Laundry's custom fitted vans now service parks and drop in centres across Brisbane and Melbourne, and their wider communities.
With the help of The Good Guys, Orange Sky Laundry is planning to launch a van in Sydney before Christmas and has every intention of a rapid expansion into other states in order to have vans operating across Australia.
Orange Sky Laundry
,
The Good Guys