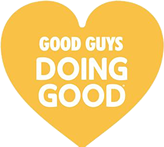 Andrew Muir today launched a new Doing Good program, The Good Guys Superhero Academy, which will commence its inaugural national tour on Saturday 5 September at Essendon Fields, Melbourne.
Taking The Good Guys' 'Doing Good' initiative to a whole new level, The Good Guys Super Hero Academy aims to roll out close to 200 workshops across Australia in its first year, delivering the super hero experience to over 7,500 children.
The Good Guys Super Hero Academy has been created to teach positive lessons and character-building skills to children aged between 6 and 12 years, so that they can adopt them in their everyday lives and share them with their peers.
The Good Guys Foundation Chairman, Andrew Muir stated, "The Good Guys is committed to 'doing good' in the local communities in which we operate, by helping to create healthier and happier communities – and what better way than by supporting the development of our younger generation.
"As a business, we started the journey of helping create happier and healthier communities when we partnered with Jamie Oliver to bring his Ministry of Food program to Australia in 2010 and the success of that program in contributing to healthier bodies has been far reaching and well documented" he said.
"Our partnership with Circus OZ to design and establish The Super Hero Academy is natural progression in our commitment to promoting good mental and physical health.
"This is part of a multi-year plan that will ultimately see The Good Guys Super Hero Academy visit every metropolitan and regional location around Australia where The Good Guys operates", Mr Muir concluded.
With the help of Circus Oz, The Good Guys Super Hero Academy uses circus as a forum to provide a fun, non-competitive and safe environment for children to explore their physical and personal capabilities, while developing their teamwork skills.
The workshops will take children through a specially designed course that will provide two hours of energetic, educational activities led by the Super Hero Academy Circus Oz trainers. Children will learn new skills such as mini-tramp and tumbling, acro-balance and human pyramids, as well as having a go at conquering the trapeze and aerial ring – like a true super hero!
Each activity station will allow children to face different tasks and challenges such as overcoming anxiety and fear, accepting support from others, exercising patience and trust, as well as personal resilience. The workshops are designed to able to accommodate different levels of ability and experience.
Circus Oz Social Enterprise Director Del Robinson said, "When developing The Good Guys Super Hero Academy program, we wanted to create something that enabled each child to discover their inner super hero strengths and capabilities, allowing them to reach their goals and contribute to something extraordinary, while sharing in the joy of circus.
"The beauty of these workshops is that they are not solely focused on the physical capabilities. It is also how children participating in the workshops can learn about their inner qualities and support one another through each challenge. It is the first step in recognising what they are capable of and how they can draw on this experience in their everyday lives with their family and friends", concluded Del.
The Super Hero Academy workshops are for children aged 6 to 12. Parents are encouraged to register their children early to secure a spot as all registrations must be complete prior to the workshop taking place. All locations and times are listed on The Good Guys Super Hero Academy website.
Good Guys Doing Good
,
The Good Guys
,
The Good Guys Super Hero Academy