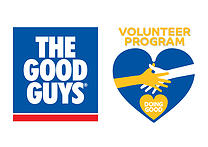 Andrew Muir, Chairman of The Good Guys, is no stranger to getting out into the local community to help assist programs, services and grassroots projects. This month he announced that members from The Good Guys Support Centre in Melbourne will be hitting the streets to provide hands-on volunteer support for some of Melbourne's charities as part of a new Volunteer program.
The Good Guys' long running Local Giving Program has seen more than $6 million donated back to local community organisations where The Good Guys stores are owned and operated, helping to provide vital support for those in our community who need it the most. Now the company's Support Centre will provide hands on assistance to charities focusing on issues such as disadvantaged youth, animal rescue, emergency food and respite care.
Andrew says the work provided by the team will hopefully take some of the pressure off the dedicated people working behind the scenes within these vital community organisations.
"Our Volunteer program aims to provide a workforce of people who can help our partnering charities with some of the behind the scenes work that needs to be done to help the organisations tick," said Andrew.
"We will be out there cleaning, painting and clearing gardens with our big teams, however we will also be providing skilled support for the many crucial office activities that simply need to be done to keep the wheels turning," he said.
The program, which has seen The Good Guys partner with Oz Harvest, Pet's Haven, Cottage By the Sea, Presentation Family Centre, Legacy and Kids Under Cover, will run throughout the year, rain, hail or shine.
"Our philosophy is simple. We are committed to supporting the very communities where our customers and employees work and live," said Andrew. "Hopefully through our Volunteer program we will help make some positive change in the community by simply doing good."
The Good Guys Local Giving Program sees a percentage of every transaction in store and online donated back to local community organisations. To find out more about the program or how you too can become a good guy, visit www.thegoodguys.com.au
Andrew Muir
,
Local Giving Program
,
The Good Guys