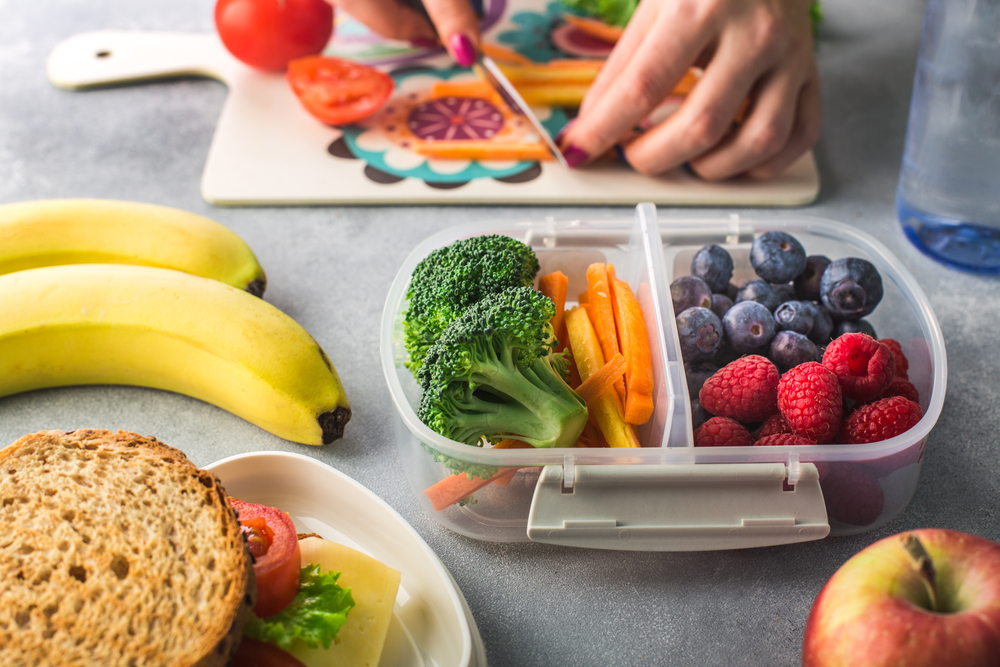 To put it bluntly, 27% of Australian kids are overweight or obese and they will be the first generation to not outlive their parents. The modern lifestyle has a massive role to play in the current growing health crisis – physical activity has declined and the way we eat has changed dramatically. Over the past 30 years, we've stopped eating nutritiously, sitting at the table for dinner, sharing our recipes and traditions and we've stopped talking about food in the classroom. Our kids are growing up without ever learning about real food and how to cook for themselves.
Discretionary foods have become the norm in lunchboxes and the focus has shifted to convenience rather than healthful foods. This is not only impacting our children's bodies, but their minds too.  A poor diet has the ability to reduce their academic output and concentration, as well as having long term impacts on their mental health outcomes.
Facts that are hard to swallow
In Australia, one in four children aged 5-17 are overweight or obese.
If no action is taken there will be 2.4 million more obese people by 2025, costing the nation an additional $87.7 billion over the next ten years.
69.2% of children, aged 8 to 11, fail to consume the recommended intake of at least 3 serves of vegetables per day.
84.8% of children, aged 12 to 17, fail to consume the recommended intake of at least 4 serves of vegetables per day.
Excess weight increases the risk of poor health during childhood and of developing chronic conditions as adults.
The good news
Diet-related diseases are both reversible and preventable.
Kids who learn to cook have better diets and are more aware of the importance of making healthier choices.
Healthy habits formed early in life can follow on throughout childhood, adolescence and into adulthood.
Kids who eat healthy lunches perform better at school and are less likely to take days off.
Children's motivation and behaviour is influenced by edible education in schools, leading to improved behaviour in and out of the classroom and increased enthusiasm towards learning.
Food education in schools helps to boost achievement levels across the curriculum, particularly in science, maths, food technology and languages.
Children who cook and plant their own fruit and vegetables are more likely to eat them.
Making healthy lunch boxes doesn't have to be complicated
Aim to include fruit, vegetables, protein, wholegrain, dairy and a healthy snack.
Eat the rainbow with fruits and vegetables.
Get the kids involved with making their lunchboxes – they are more likely to try foods they have helped prepare.
Mood boosting ingredients:
Anxiety: Fruit, vegetables and wholegrains
Mood boosters: Cottage cheese and air-popped popcorn
Concentration:  Tuna
Irritable/feeling unsettled: Quinoa and celery
Depression: Walnuts and bananas
Top 5 lunchbox tips
1.            Avoid including high sugar drinks in your lunchbox. Water it is the healthiest and most thirst-quenching option.
2.            Plan ahead by freezing or make smaller portions that can be included in lunchboxes – frittata, savoury muffins, zucchini slice etc.
3.            Include wholegrains wherever possible, a simple switch from white bread will boost fibre consumption.
4.            Replace high salt and high sugar processed snacks with healthier options – hardboiled eggs, popcorn, fresh fruit, nuts with dried cranberries, cheese, cooked cob of corn, brown rice sushi, bocconcini, cherry tomatoes, avocado, fruit, veg crudités, baked pretzels, frozen yoghurt, fruit in juice or frozen berries.
5.            Purchase the right lunch box to meet your needs – segmented lunchboxes (like these from Stuck On You) can help with portion control and make it easier to ensure your kids are eating a variety of foods to meet their nutritional needs.
This article was originally published by Kiddipedia
Healthy Eating
,
Jamie's Ministry of Food
,
Nutrition
,
The Good Foundation