Regents Park State School keeps healthy eating plan despite Jamie Oliver's restaurant disaster in UK
May 24, 2019 By News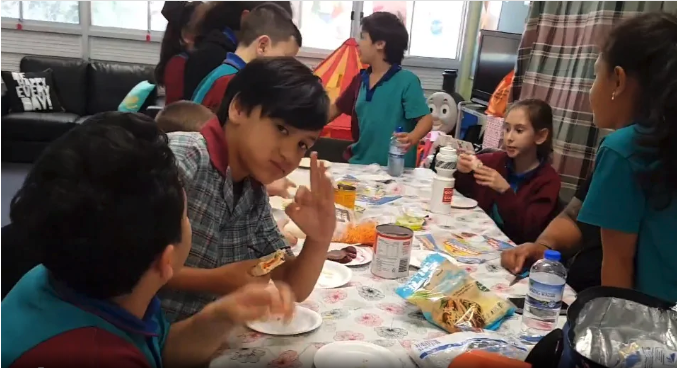 THE collapse of celebrity chef Jamie Oliver's UK restaurant empire this week will not affect healthy eating programs in southeast Queensland schools.
Oliver made headlines on Tuesday when it was announced 25 of his eateries across the UK had gone into administration.
Despite the sour note in the UK, the news would not adversely impact some healthy eating classes which are being served up to school students in southeast Queensland.
Logan mum Miche Ceguerra, a qualified facilitator for Jamie Oliver's Learn Your Fruit and Vegetable program, would keep teaching the healthy food message at southeast primary schools.
Ms Ceguerra, who has a passion for improving the eating habits of Aussie kids, took up the role with Jamie Oliver's LYFV program last year.
Her endeavour may help to reduce startling statistics from national research commissioned by The Good Foundation which showed the majority, about 71 per cent, of Australian kids aged 3-17 were not getting the recommended daily intake of fruit and vegetables.
It found less than a third were eating veggies every night and alarmingly, Australian kids only consumed veggies with dinner five times a week on average, when the government's dietary guidelines recommend five serves of vegetables a day.
The findings showed Australian parents blamed increasingly busy lifestyles and the ease and accessibility of packaged dinners and takeaway food.
Regents Park State School, where Ms Ceguerra's daughter is a student, was one of the first schools in Australia to trial the healthy eating classes after the hands-on mum registered the school for the pilot program.
Prior to working with LYFV, she founded a kids cooking club, Tots Cookery Club, which she started while on maternity leave.
A passionate foodie, Ms Ceguerra recognised a need to introduce kids to healthy eating while highlighting how the topic could be fun.
Kids at the school have reported loving eating the vegetables they have been learning about as part of the program offered from prep to year 6.
The school said the program would continue despite the celebrity chef facing financial crisis overseas.
Logan has also been host to Jamie Oliver's Ministry of Food Mobile Kitchen which tucked in and made the most of flavours and recipes from around the globe.
When the program started, the street-smart chef celebrity said it was about having fun with fresh food and also giving teachers, parents and families the help they needed to make healthy choices.
Children's nutrition
,
food
,
Healthy Eating
,
Nutrition