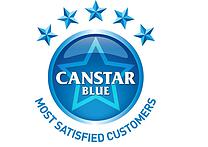 Leading Australian retailer, The Good Guys, has been named Australia's favourite electronics retailer by consumer research company Canstar Blue for the fifth year in a row and is only the third company after United Petroleum and Pizza Capers to win five stars every year since Canstar Blue began the awards five years ago.
Andrew Muir, Chairman of The Good Guys, says winning five years in a row and being only the third company to do so is an incredible achievement and extremely humbling.
"We are thrilled to be recognised by the people most important to us, our customers, for this award for a fifth straight year as it validates our approach of putting our customers first at all touch points.
Canstar Blue surveyed more than 1,600 shoppers across the country and found point of sale service to be the greatest driver of satisfaction at electronic stores (27 per cent), trumping value for money and price.
"Electronic retailing is experiencing an era of intense competition which many mistakenly believe to be all about price.
"While price is, and will always be, a key driver for consumers; it cannot succeed on its own. Consumers continue to place high value on factors such as in-store experience, range of product and point of sale support.
"We recognised a number of years ago the need to build a capability and culture at The Good Guys that puts the customer front and centre and, as such, we implemented a customer engagement model that focuses on building a relationship with the customer that extends far beyond the transaction," said Mr Muir.
The Good Guys receive this accolade at a time when online retail spending has grown to $17.3 billion in the year to June 2015, equivalent to some 7.1% of traditional retail spending, according to National Australia Bank's (NAB) Online Retail Sales Index. It has taken the overall year-on-year growth rate to 10%.
"While most of our customers start their shopping journey online, the majority are still coming into a store to make their purchase so delivering great customer service in-store remains paramount to customer satisfaction," added Mr Muir.
Head of Canstar Blue, Megan Doyle, said consumers will vote with their feet if they don't get great customer service in-store.
"Consumers still enjoy the benefits of face-to-face shopping, but store-front retailers need to be constantly on their toes, otherwise people will head to another store or go home to buy online, where competition is even fiercer. It's never been more important for the retailers to get their customer service absolutely spot-on."
"If they're spending hundreds or thousands of dollars on a new item, people want guidance from the experts and assurance that they're making the best purchase decision for their needs. You can't replicate that sort of customer service with a pop-up window on a website."
"The Good Guys is clearly a firm favourite with Aussie consumers. Few brands have enjoyed the same consistent level of success, so it really is a fantastic achievement," said Mrs Doyle.
The Good Guys was the only electronics retailer to receive a five star rating from Canstar Blue across the categories of value for money, price compared to others, point of sale service, product range, store layout and catalogue.
Canstar Blue
,
The Good Guys