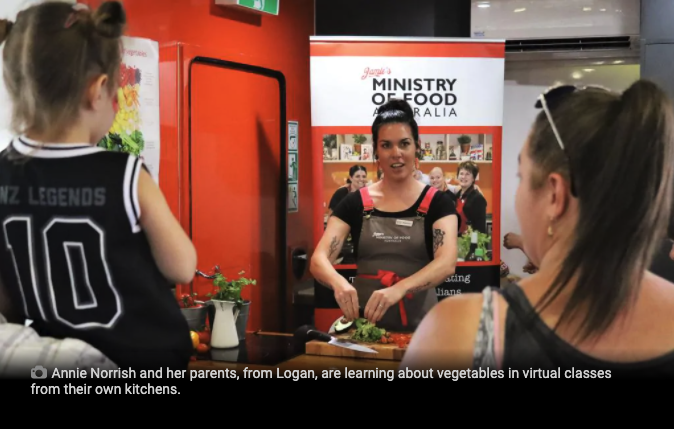 UK celebrity chef Jamie Oliver is whipping up interest in Logan where cooking classes for kids have moved online as part of coronavirus restrictions.
The famous chef's mobile classes, which stirred up interest at Yarrabilba since January, has been forced to go online to meet social distancing rules.
Jamie's Ministry of Food, and The Good Foundation paused face-to-face classes from their mobile kitchens and Ipswich centre, switching all classes to an online offering.
But the pandemic will not stop kids from Logan learning about their vegetables.
For kids aged three to 12, Jamie Oliver's Learn Your Fruit and Veg virtual program will run as 30-minute sessions, over a period of four days.
Online classes will follow the same format as the face-to-face lessons, but allow participants to get involved from their own kitchen.
Over five sessions, participants will learn to make key recipes that cover every meal; from breakfast and sides to lunch and dinner.
They are taught by professional food trainers via a live interactive video chat.
Participants will learn knife skills and techniques to make it simpler and quicker to cook delicious meals on a budget.
Participants will also learn how to bring the best flavours out of fresh ingredients and how to plan meals on a budget, so food goes further.
Queensland Health, Lendlease and Queensland University of Technology supported the mobile kitchen visiting Yarrabilba, where it taught locals home-cooking skills and promoted healthy eating.
More than 19,000 Queenslanders, including thousands from Logan and Ipswich, have participated in one of the Jamie Ministry of Food cooking classes, with many more already registered for the new online offering.
The classes have been hugely popular with residents from both cities who have been hugely supportive of Jamie's Ministry of Food since January.
The Good Foundation CEO Siobhan Boyle said the company was also creating "virtual hubs" to maintain connections in more remote communities.
The Ministry of Food's first virtual community hubs will be launched in Barcaldine, Toowoomba, Blackall, Tambo, Longreach and Winton regions.
This article was originally published by The Courier Mail.
Food Education
,
Jamie's Ministry of Food
,
The Good Foundation